Window Blind Cord Injury Information for Residents of Iowa
Children Harmed and Killed by Dangerous Window Coverings in Iowa
The history of window blind cord injuries is long and tragic, and the Onder Law Firm has been a leading advocate for greater regulations for many years. Essentially, when window blinds were recognized as a hazard to young children, cordless technology and other safety measures were quickly developed. Yet window blind cord regulations within the industry have always fallen short of actually eliminating the risk of window blind cord injuries to children.
The problems with existing regulations are twofold: The current regulations are inadequate to prevent death and injury to children, and even these voluntary standards are not being followed.
Today, after many new rounds of inadequate regulations have been adopted, and as the death and injury toll continues to rise, advocacy groups including these Iowa window blind cord attorneys have petitioned the Consumer Product Safety Commission to demand that stringent, mandatory standards be imposed to eliminate this common household hazard at last.
Timeline of Window Blind Cord Injuries and Deaths
Over the past thirty years, hundreds of window blind cord injuries have been documented. Young children have been seriously injured and killed in these incidents. Despite the development of cordless window blind technology, window blind cord injuries and deaths continue to occur. Experts believe many more accidents have occurred than are officially recorded; the numbers represented here are estimated to account for roughly 40% of the window covering injuries that have taken place in the past three decades.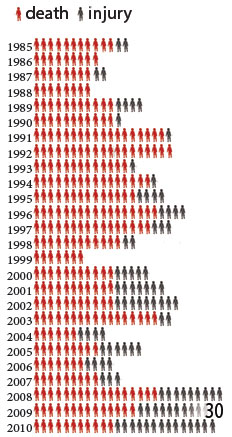 Timeline of Window Covering Safety Regulations
Since 1985, a series of regulations, public education campaigns and recalls have addressed the topic of window covering safety.
1985 Safety Alert: Warned consumers to shorten cords and keep them out of reach of children and cribs, but neglected to advise that looped cords be cut.
1986: Warning labels featuring 1985 information were made to be attached to products.
1994: Voluntary Corrective Action Plan approved by Window Covering Safety Council, leading to public education campaigns, the retrofitting of dangerous products, and new product designs
1996: First Voluntary Standard passed by the Window Covering Manufacturers Association: standard required the elimination of some outer cord loops and the addition of tie-down devices on some blinds. The industry knew about the risk of inner cords at this time, but addressed it only in a vague and confusing manner.
1997: A Revised Standard also failed to establish warnings for many hazards that were not otherwise addressed.
1999, CPSC warning letter to the industry, after many more deaths, demanding they also address the hazards associated with inner cord loop formation through design.
2000: Second Voluntary Corrective Action Plan in September of 2000, again involving public education and outreach, retrofit product distribution, and new product modification.
2002: A Revised Standard also recommended consumers "install only cordless" window coverings in homes with young children. This revision of the standard continued to leave many accessible window cords unaddressed.
2007 - 2010: New Revised Standards continue to fall short of needed regulation.
2010: CPSC, Health Canada and the European Commission jointly called for mandatory regulations that would ELIMINATE not just reduce the risk of window blind cord injuries and deaths.
2010: Safety experts and consumer organizations join voluntary standards meeting, including representatives from Parents for Window Blind Safety, Independent Safety Consulting, Consumer Federation of America, and Consumers Union.
One year later, these safety experts and consumer representatives reluctantly walked out of a voluntary standards meeting because window blind manufacturers were ignoring their recommendations and refusing to give them meaningful participation in the standards process.
Consumer groups and experts walked out of the voluntary standards process because they could see that loopholes in the voluntary standard were responsible for many injuries and deaths, but were not going to be addressed by Industry.
2011: CPSC declared, "It is time to 'eliminate' the strangulation risk on window blind cords."
2011: Retailer Industry Leaders Association urged the Window Covering Manufacturers Association to adopt standards that eliminate operational cords capable of forming hazardous loops and to address continuous loop tie-down devices.
2012: A proposed version of the voluntary standard primarily addressed the serious remaining risks of window coverings. However, these comments were largely ignored in the final version of the standard.
2012: Analysis of window covering incidents between 1996 and 2012 was conducted. 40% of incidents would not have been prevented by the voluntary standards. The 2012 standard actually permits an increase in the number and types of hazardous accessible cords on some newer window coverings.
2012: A Coalition of groups petitioned for a mandatory standard from the Consumer Product Safety Commission, including Parents for Window Blind Safety, Consumer Federation of America, Consumers Union, Kids in Danger, Public Citizen, U.S. PIRG, Independent Safety Consulting, and Safety Behavior Analysis, Inc. and the Onder Law Firm.
The Onder Law Firm is petitioning the Consumer Products Safety Commission to issue a Mandatory Standard that would eliminate window blind cord hazards once and for all.
Iowa Window Covering Lawyers Represent Families
Our attorneys have already represented more than fifty families in window blind cord injury and wrongful death lawsuits. Armed with a particular sensitivity to this topic earned through the firm's steadfast commitment to this cause, our attorneys offer the premier window blind cord attorney representation in Iowa. In alliance with several consumer safety groups and experts, the Onder Law Firm is a leading voice calling for elimination of window blind cord hazards.
Unlike the competitors, our primary goal is to bring about meaningful change in order to prevent future window blind cord injuries and deaths. Our Iowa attorneys will work tirelessly on your behalf to assure you get the compensation you deserve and continue to advocate for mandatory safety standards. If a child in your family was harmed by window blind cord hazards, a Iowa window blind cord attorney can help by answering your questions and giving you a sense of your legal options.
Iowa Window Blind Cord Injury Lawsuits
Families whose child was harmed by a window covering may have grounds for a Iowa window blind injury lawsuit. We provide legal representation for Iowa window blind cord injury and wrongful death lawsuits on a contingency basis, meaning that we charge no fee unless we win compensation on your behalf.